Metal Beds
Our metal bed frames are available in a range of styles, from contemporary, sleek designs to more traditional, decorative styles. So whatever your décor or tastes, you can be sure that The Quality Bed Warehouse has the perfect metal bedstead to suit.
Our friendly staff have been in the industry for many years so can advise you as to which styles, sizes and frames will best fit in with your room and requirements, ensuring you measure the space and bed correctly for the perfect fit. Simply visit our showroom and we'll assist you with all your needs, including finding you the ideal mattress for your individual comfort.
Give us a call at The Quality Bed Warehouse today on 0115 971 7571 or pop into our showroom to find out more.
Current Special Offer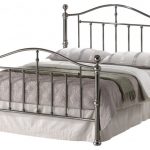 Black Nickel Frame
Double (was £529)
Only £429